Barb E., 57
Consultant, Quality & Regulatory Affairs
I have sciatica and benign paroxysmal positional vertigo (BPPV) which causes dizziness and vertigo. Exercising with Nate has helped to improve my balance, flexibility, and strength which has helped me regain and maintain my balance when it occurs from certain head motions.
The METBurn workouts have improved my strength, flexibility, and balance at a surprisingly fast rate which helps me navigate increasing challenges with age.
Every day tasks like carrying groceries and climbing stairs or ladders have become much easier while also avoiding falls. I feel healthier and stronger, and I can—and do—participate in activities that I otherwise may not have done before.
Being a part of Nate's program has helped me to lose and maintain my weight. I love this program because it doesn't require a huge time commitment and provides great results. Its diverse and doesn't get boring. Nate ensures the exercises change which keeps it interesting and fun.
The program also provides great all-around support and nutrition coaching.
I'm glad I joined this program and would recommend anyone—even those with limitations or issues—join METBurn. I'm convinced everyone would have a positive outcome since Nate has great expertise in adapting exercises to allow full participation and maximum results. 
---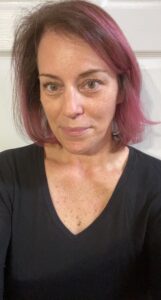 Karen A., 50
Registered Nurse

I have four herniated discs and one bulging disc in my neck along with foraminal stenosis/arthritis which has caused a narrowing of my spinal canal at C5-C6 and virtually the same issue at L4-L5.
I have gained strength and mobility and decreased pain from Nate's program as well as maintaining a 100lb weight loss over many years. I have no doubt that doing these exercises has played a large role in keeping me from being in a lot more pain than I otherwise would be. I am able to do many activities in my daily life because of my mobility thanks to the strength and flexibility I have built up with Nate.
I would DEFINITELY recommend Nate and METBurn to others as I have found his program to be nothing but beneficial for me. There is absolutely NO judgement or feelings of insecurity when working out. I have been able to modify exercises to accommodate any "issues" I may be having and still benefit from the program. I find it more fun than machines or "standard" gyms and by far more value for the money.
---
Barbz G.,
Landscaping

After lightly "badgering" me for several years to workout with her, my good friend Lisa finally succeeded, but only after I saw her one day and in shock I said, "what happened to your body?"
She always looked fit but something was very different. She was so lean, and I could see more muscle tone—especially in her arms. When she laughed and said she heard of a new gym in Alachua that was promoting a three-week trial special. She gave it a try, was hooked, quit the other gym she'd been going to for several years, and that's how I heard of Nate and his program.
August 8th, 2012, I went with Lisa as a guest for a free workout. My life, as I knew it, was drastically changed after that workout. I had no idea exercise could be fun. Prior to joining, I belonged to a gym since 1988, but I stopped going as I wasn't motivated nor did I get much help when I did go.
I immediately signed up for the next training phase, and more than 8 years later, here we are. I've never stayed with anything this long. When I started, I was 40 pounds heavier and NEVER felt intimidated or ashamed. We are all there for the same basic reason.
Now the reasons I love METBurn (formerly "UFR"):
Number one, Coach Nate.
I've always wanted a personal one-on-one fitness coach, but it's too expensive. That's exactly what you get but in a small group setting. Each class, Nate is right there making sure your form is correct and you're performing at your peak. You will never be forced to do anything you're not comfortable doing.
Nate is very knowledgeable about weights, kettlebells, nutrition, a stickler about performing all exercises correctly, super funny, family-oriented, and he makes his gym fun to come to.
He just opened a new, pretty, shiny, clean gym, and you'll never smell anything but clean. The workouts are different each 4-week phase and are customized by Nate.
Everyone does the same exercise but use the weight Nate recommends.
Nate's focus is strength, number one.
The variety is what makes the workouts fun, and you get results.
My life revolves around my workout schedule.
I am stronger, healthier, have more endurance, energy, and I'm basically a happier person.
I highly recommend Nate and his METBurn program, but you have to do the work. Nothing is easy, and the workouts that Nate puts together will guarantee results. I promise.
As long as you "DO WHAT NATE SAYS," you'll be a happy camper. Just do it!!
---
"I am probably Nate's oldest client over 70. I love the people who train alongside me. Young and older, we all have the same goals: to be healthy, strong, and balanced, and, of course, to keep extra weight off. Nate plans the workouts for us. We all do the same things just using different weights or exercise variations based on our own strengths. He stays with us providing good "form" advice. If you need nutrition advice he can give it! If you can walk a straight line and pick something up off the floor, you can do this. Whatever your issues are—maybe you are just lonely—come and try working it out!"

– Karen R.
"Nate provides detailed individual coaching in a small group setting. He has class times to meet all schedules! I have been training with him for more than 12 years!!! The benefits are tremendous. He has taught me nutrition and strength to keep me healthy for a busy lifestyle!"

– Debbie A.
"I started with Nate's Metabolic at-home workouts, which were great for my schedule at that time. I joined the gym, and I have not felt this strong and healthy in years! Nate's gym provides a fun, small group atmosphere, and he brings a ton of energy and knowledge to the workouts. It's amazing how he can keep his eyes on everyone to ensure proper form! He is also careful and aware of different fitness levels. The support he provides (physical and nutritional) is great for those needing it and new to this level of training. I've never felt intimidated. He makes the new members feel very welcomed and the experienced ones like family! If you are wanting a change and willing to work for it, do it!"

– Cynthia G.
"I have tried several Fitness plans over the years and the workout programs with Nate had the best results for me. I love that you get there, workout hard, and you are done in under an hour. Clients are SO supportive and make it a positive atmosphere with NO intimidation!! Nate will adjust your workout for your personal issues if needed and work with you to reach your goals. I highly recommend Underground Fitness Revolution (METBurn)."

– April C.
"I started working out in October 2018 with Nate. It has worked better for me then any gym or diets I have tried in the past. Nate will work with YOU on what is good for YOUR body with training. Everyone is very supportive and not judging you. I'm pleased with the decision I have made to join Nate! Thank you Nate!!"

– Miranda M.
"Awesome trainer and training in a small group setting. I have experienced incredible results under Nate's instruction. You will not find a better plan for health strength and overall fitness with a time commitment of less than three hours a week!"

– Libby S.
"Nate runs a great gym that provides custom workouts that will concentrate on you and the proper techniques. This isn't a typical fitness class. This isn't CrossFit. This is a workout. This is a way to get in shape, lose weight, build muscle, and a new way of life. If you have any doubts, contact him and schedule a visit. Highly recommended!"

– Jimmy A.
"Nate is great as a trainer. I've gotten stronger and more flexible in my time there."

– Vince H.